Bolster Your Business with our Brochure Printing Service!
An eye-catching custom brochure can help sell anything by enticing customers to find out more about your brand or promotion. From a simple one page brochure to multi-page brochure booklets, the best brochures are graphically appealing, carefully scripted and expertly printed. With our brochure printing service, your choices are endless and limited only by your imagination! Let our team at Minuteman Press of Lindenhurst handle your most creative and challenging marketing strategies. We will create a look that is as unique as your business!
Our brochure printing service allows you to build your brand by introducing new products, answer questions, educate, list prices and services and tell your story in a cost-effective manner. Our design team can take your ideas, words or images and produce eye-catching promotional pieces or, if you already have camera-ready art, we can review your file for errors and print your document.
Impressive full-color printing
Gloss, matte or uncoated paper options
Variety of folding options
Pick a standard size or go for a unique custom size
We can save you time and money...just add our direct mail service to print and mail your brochures or newsletters directly to your customers or prospects.
Are you Starting a New Business?
Contact us about our Business Start-up Packages!(250) Business Cards, (250) Letterhead and (250) Envelopes for as low as $125.00!! We can also customize any Start-up Package to include a Custom Postcard, Brochure and Posters.
Have your own design?
If so, let us inspect your files so we can make sure we are producing the highest quality brochure printing for you at an affordable price. Contact us now to see how we can help!
To get a quote for a brochure or upload a file, please fill out the form.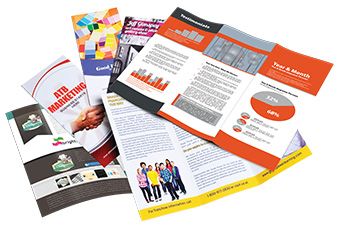 Brochures printed using our brochure printing service